18@8: Mirror, Mirror on the Wall @ Wei-Ling Contemporary
Wei-Ling Gallery's
annual showcase
deploys
narcissism
as its unifying theme, which early communication likely led to a wonderfully coherent display, all artists successfully producing theme-relevant artworks. Following on recent editions of 18@8, a commercial tie-up required each artist to work on a Furla Candy bag, which were subsequently auctioned off to aid animal welfare organisation SPCA. A typical large-scale work by Zulkifli Yusoff greets and confounds the viewer, its overlapping strips of cloth and coloured resin resembling an architectural plan. References to the story of a tortoise and two birds are prominent only as texts, as the similarly patterned bag nabbed the highest auction price. Anurendra Jegadeva's version features cut-out felt icons, referencing modern society's fallacy of worshipping personalities, a delightful diversion from his serious painting of a Burmese militant monk.
Furla bags: (left) Zulkifli Yusoff - The Birds and the Tortoise; (right) Anurendra Jegadeva - Pop-pop Trinity (plus One)
Still inflamed by electoral injustice, Kim Ng's 'Anonymous' draws 3 dark shadows among corrupt symbols and his characteristic printed motifs. Traces of a red frame box hidden narratives, while graffiti scribbles include snippets of political rhetoric. The overloaded picture is fortunately neutralised by a diagonal spread of light-coloured flowery lace. A fascination with words and wall jottings also preoccupies Choy Chun Wei, 'I Shop Therefore I Am (Urban Fragments Reflected)' coming across as a visual summary from strolling in a shopping district. Wife Yau Bee Ling explores materialism too in her couple painting, the uneven outlines and messy colours rendering an unattractive diptych. Cheng Yen Pheng grabs attention via her bag decorated with egg shells and black lemons, a successful visual that turns the stomach upon discovery of the leftover food utilised.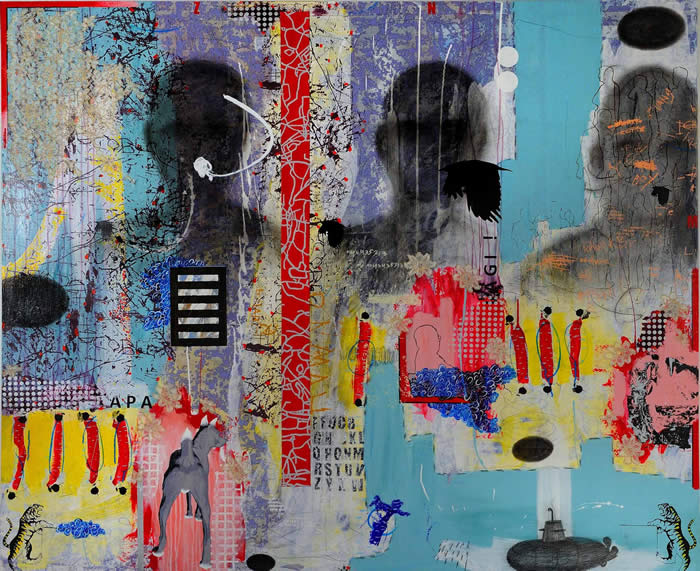 Kim Ng - Anonymous (2013)
Artists couple Ilham Fadhli and Azliza Ayob display inviting works in their respective inimitable styles. Kojek paints a headless woman, the melancholic scene based on a fable similar to Narcissus', which eeriness dissolves after the figure's head is cheekily restored on a pink-coated Furla. Azliza's 'The Enchanted River (of Temptation)' depicts many traits of feminine splendour in glittery fashion. Crimson lips, gold ring, platform heels, leather gloves, diamond pendant, royal tiara, smooth skin – these motifs weave amongst foliage, birds, and flowers that flank the winding river. An elaborate goose serves as the pretty warning, against excess indulgence to the point where one becomes unrecognisable. Ever the ornate decorator, Azliza wraps her bag in beautiful lace and glittery stones, taking full advantage of its transparent make to augment a luscious design.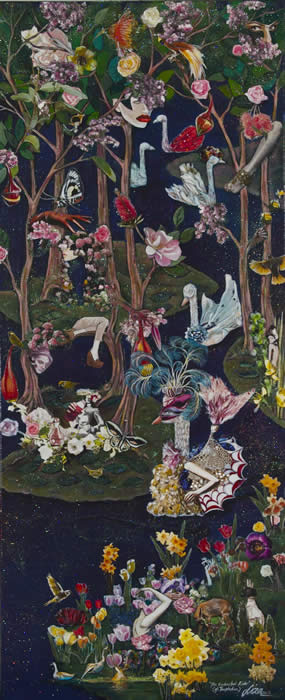 Azliza Ayob - The Enchanted River (of Temptation) (2013)
High gloss covers Wong Chee Meng's 'Fact and Fiction', who demarcates forms in white & grey, a potent technique to single out the fiction/creation act of typing. Suburban flats, nyonya tiles, and medicine tablets in the background, imply a mundane reality that backs the human desire to inject colour into their (online) lives. Sean Lean offers a more traditional approach to painting, where idols a generation apart are juxtaposed dramatically in panorama. In his interpretation of self-love, Sean's artist idol Ivan Lam reverts to his preference for stencilled words and toy transportation. 'Solipsism' features binary statements in the first panel, a golden mirror in the middle, followed by dark grey train tracks. The applied medium within each box reinforces a visual contrast unified across panels by black. Texts followed by a reflection then darkness, states the philosophical idea, but does not expand further nor impel one towards deeper thoughts.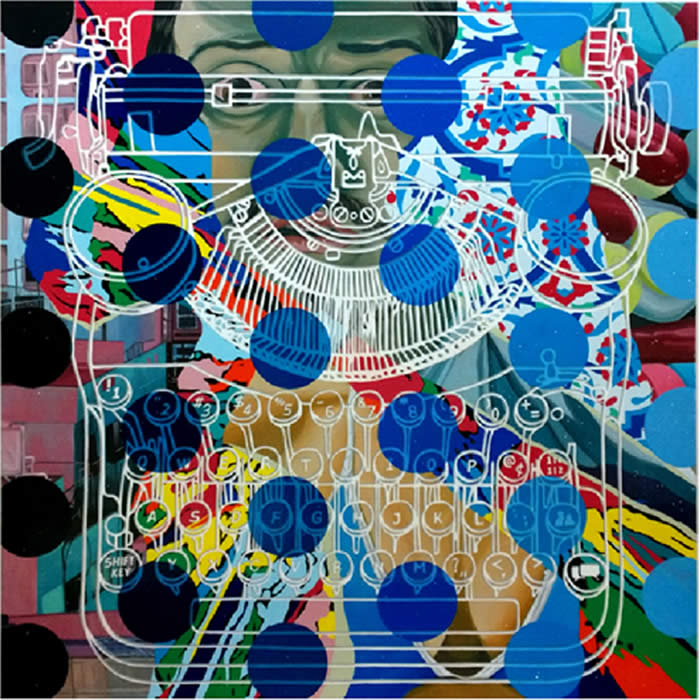 Wong Chee Meng - Fact and Fiction (2013)
As a passive user of Facebook for news aggregation, the social media culture truly baffles in its potentially damning generalisation of a delusional generation. Hamidi Hadi states his observations about propagated half-truths within a crude black frame. Screenshots are photocopied onto a metal sheet, where
friends
feature as FB commentators. Protruding resin droplets
continue to
mesmerise, while the central Rorschach inkblot depicts pinnacle-like patterns in a familiar blue. Reflective surfaces bind the best works in this exhibition, which "...affirms the fact that art remains a wonderful refuge from the deluge of the digital world and Social Media..." Rachel Jena continues on in the
catalogue essay
, "...isn't it a little narcissistic of Wei-Ling Gallery to be showing off its best? The gallery is guilty, yes; But, this is one form of narcissism that we'll excuse." I
Like
.
Hamidi Hadi - LIKE (2013) with close-ups