September 2013 @ Wei-Ling Contemporary
Choy Chun Wei's collage diptych 'Global Citizens' grabs attention, but the works from Hamidi Hadi's "Antara" series capture the imagination, all 3 successfully sold at
this showing
. Enlarged photographic prints recall Roy Lichtenstein's appropriation of comic drawings, although the pixellations seen here imply a vague memory. Spreading a low-resolution picture seems contrary to the Ben-Day dots technique, but both essentially employ the same approach of re-framing, in this case a mechanical reproduction of a personal destination. Enamel paints demarcate a picture horizon with utmost simplicity, a splash of colour sufficient to depict pathways and elements. Hamidi tilts and flips the canvas to render naturalistic forms, his method limited in control and subjected to a randomness, that augments the objectification of its background.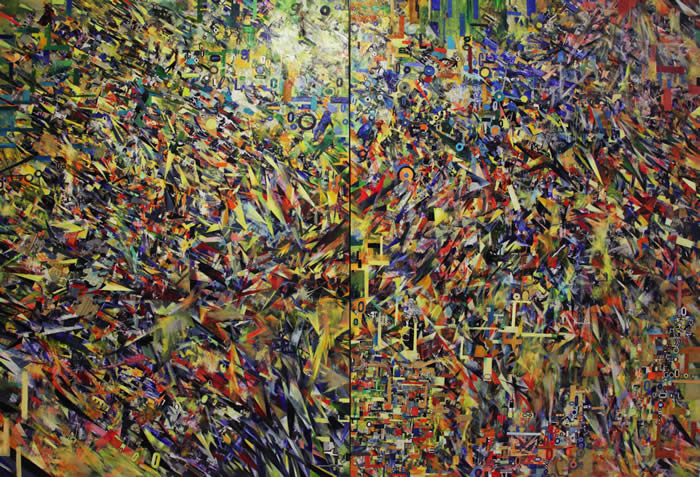 Choy Chun Wei - Global Citizens (2011)
The result of playing with polyurethane is most memorable in 'Untitled (home)', where drops of liquid protrude from the canvas like stalagmites, frozen in space and time. These crystalline projections echo the mechanics of inkjet printing, a reference to the physics phenomena known as the Rayleigh instability. Fear of fragility forces the viewer to stand at a distance, ever further from the nondescript image, yet the powerful aesthetic encompasses the individual within its viewing radius. Minimal, cerebral, beautiful – these emotions and thoughts commonly emerge when I view a Hamidi Hadi, which these 3 works successfully invoke.
Appropriating
a lucid description from literature critic Sarah Churchwell: "...And yet they convey ideas about how to depict the most physical of our realities: motion, time, collision." Well, here he goes.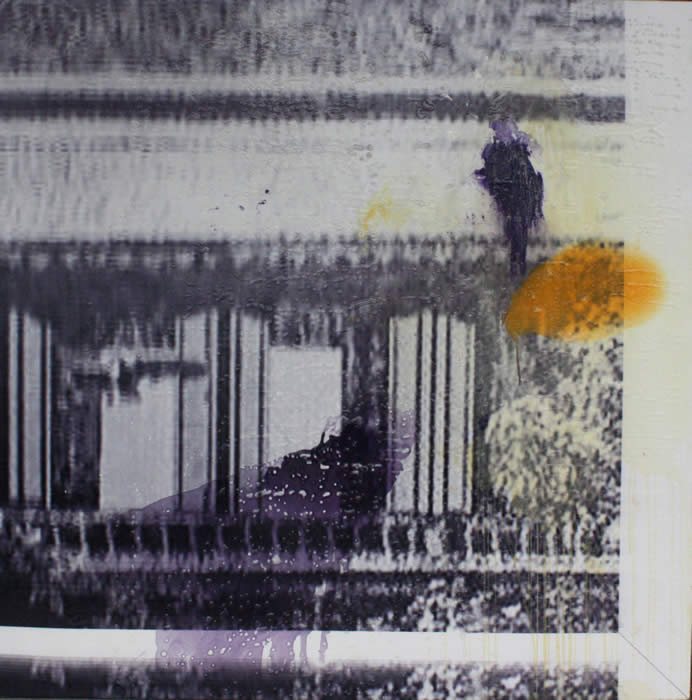 Hamidi Hadi - Untitled (home) (2011)