Ho Mia @ Wei-Ling Contemporary
Returning from Art Basel, the gallery continues on with its high-profile ways by collaborating with a corporate lifestyle magazine, to organise a charity auction for pewter teapots. The accompanying exhibition includes artworks from the gallery's usual line-up, focusing on ho mia, a Hokkien colloquialism that acknowledges the fortunate path towards one's success. Just featured in Hong Kong, Choy Chun Wei recognises the utilitarian nature of Google and the internet, by aggregating visual stimuli augmented with strobe light and fingerprint-like markings. Equally Daedalian is Kim Ng's 'Amusement', its five-columns wide layout resembling a vertically-mounted Chinese chess board. Red woodcut prints of a serene natural scene bookend the construct, followed by an urban mess left in a ditch, before converging onto the blooming flowers at the centre.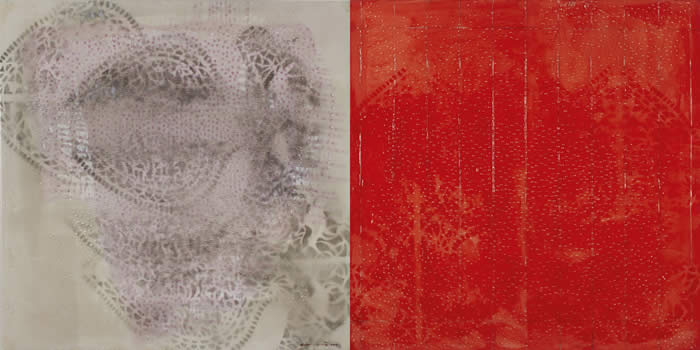 Hamidi Hadi - Pohon Beringin I (2014)
While a number of artists paint animals as symbols of contented happiness, Hamidi Hadi interprets this Chinese expression within the nusantara culture, by covering pohon beringin motifs with resin. This act commemorates a mythical time and place, where peace and joy supposedly existed before the intrusion of humankind. More real yet physically distant is the reference to the 1927 Nanchang Uprising, Anurendra Jegadeva illustrating eight of the Ten Marshals of the People's Liberation Army on porcelain tiles. The same year saw the creation of the communist party which significantly impacted Malaysia's history; On an irreverent note, it was also the year 金莲记 Hokkien mee opened its stall in Petaling Street. Perhaps the picture which best depicts ho mia is the seaside panorama by Chen Wei Meng, where sand and ocean disappear into the horizon, with a deep blue sky and white fluffy clouds hanging overhead.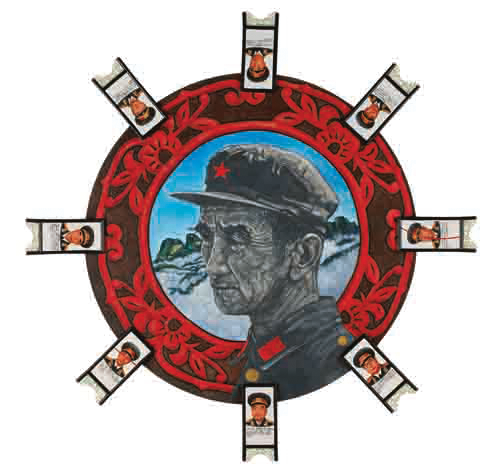 Anurendra Jegadeva - Dream of Mountains (2014)