Art KL-itique 2016 Look Back
Blame it on the economic & political gloom, but 2016 feels like a dour year in visual art highlights. Nevertheless, there are moments to cherish by looking back at... In the city centre, "
MAPPING
" stands out as a
significant step
for the National Visual Arts Gallery in exhibiting its permanent collection. Only the
1970s iteration
Transition
was a disappointment, due to a lack of wall texts to justify its curated sections. Nevertheless,
the opportunity
for the committed visitor to learn about Malaysia's visual art history, is an invaluable one. Despite my reservations about its incoherent curatorial approaches (and the politics of the exhibition spaces), Galeri Petronas' "
YMA: New Object(ions) III
" and ILHAM's "
Love Me in My Batik
" present a number of good artworks. One realization is that an exceptional painting can stand up well against more contemporary expressions, although Malaysian collectors' preference for framed paintings with obvious brushstrokes remain a troubling trend.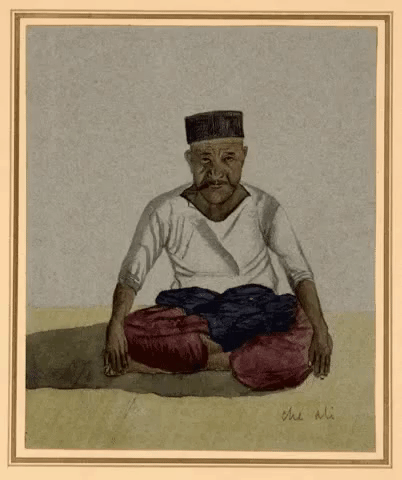 George Giles - Che Ali (1885) [ [GIF file from Balai Seni Visual Negara Facebook post dated 30th November 2016]
One missed opportunity is Jeganathan
Ramanchandran's solo
exhibition, which looked great on first glance but a more thorough visit was surprisingly cut short, as the comprehensive exhibition in Balai's expansive top floor gallery lasted only two weeks. Nearby at Sutra Gallery, Sivarajah
Natarajan's celebration
of headgear utilised in traditional dance performances was tremendously enjoyable, the artist's deep appreciation of his subject matter evident in joyful depictions. Less eye-catching but equally heartfelt are surreal drawings by Shahrul Hisham at Segaris, whose careful and
well-drawn illustrations
are a delight to appreciate. Umibaizurah
Mahir's "Fragile
" was an ambitious exhibition of charming ceramic sculptures, that would have probably sold well at an international art fair, as compared to at The Edge Galerie.
Shahrul Hisham Ahmad Tarmizi - Ugly Duckling Turntable (2015) [picture taken from artist's Behance page]
Wei-Ling Gallery was the only commercial gallery that presented more than one memorable exhibition in 2016. From Minstrel
Kuik's domestication
of political paraphernalia, to Sun Kang Jye's
inversely-painted
biblical
verses, to mix 'n match
religious icons
by Rajinder Singh, these artworks offered different perspectives for interpreting visual icons and recognizing visual cues. For enjoyment of good ol' medium-sized paintings, solo shows by
Liew Kwai Fei
at Richard Koh's, and
Maamor Jantan
at Universiti Malaya, proved
invigorating
with personal representations of subject matter close to the artists' hearts. Detaching oneself from the self-perpetuating stupidity of the news cycle, the optimism inherent in Azliza
Ayob's wonderful
plastic creations and glittery collages rubbed off myself at Rimbun Dahan, especially when one visits the charming gallery with a curious toddler.
Snapshot taken at Minstrel Kuik's solo exhibition "After-image: Living with the Ghosts in my House"
Independent
art spaces provide the interesting sights.
Lorong Kekabu
featured wisecracking works by Izat Arif, and a promising photography-based show by young artists; One small
architecture-related
exhibition at PORT Commune piqued my interest. "
Panggung Art Weekend
" offered art objects for sale on the higher floors, as I gleefully picked up a number of creative expressions. A price ceiling and a salon hang make for an attractive display, as compared to the typical small-sized illustrations and paintings found at Publika's Art Row. Also exhibited at upstairs shop lots are
delightful musings
about gender identity by Shieko Reto/ Shika Corona, and a "SHOW" consisting
abstruse video
collages by Wang Rou, which give the impression that his media/(network-ed?) art is
many years ahead
of other regional contemporary artists.
Snapshot of Anonymous Art Market at Lostgens' [picture from Panggung Art Weekend Facebook post dated 20th August 2016]
One memorable 2016 time was spent visiting the "
Derivative Modernity
in Nanyang Art" exhibition at Oriental Art & Cultural Association. After 90
minutes looking
at chops, scrolls, and Chinese ink brushstrokes, reading each caption, and listening to the QR Code-triggered commentary, I come away blank, as though what I have just seen could not register as
art
. The Chinese ideogram as visual form excludes the uneducated viewer, and further manipulation, e.g. the application of 'scripts', appears to negate whatever meaning the ideogram carries in the first place. Exhibitions like this one gives me hope that there are visual representations supposedly close to one's personal history, that remains a mystery. That art can still deliver a neutral judgement, in this times which political positions must be declared, is truly a blessing.
Snapshot of "衍生-南洋書畫印的現代性" exhibition at Oriental Art & Cultural Association [picture from gallery's Facebook page photo album]