In A Place of Wonder @ Wei-Ling Gallery
Coloured forms are visual cues integral in the search for a personal aesthetic. Its manifestation in Kim Ng's works fascinate, as bitumen blotches and printed textures provide daily inspiration. The accumulation of motifs seen
"In A Place of Wonder"
, draws from the previous three solo exhibitions Kim held with the gallery - elements from nature and 3-dimensional boxes in
"1/1"
, silkscreen scenes and bitumen voids in
"Fact or Fiction"
, and polka dots and anonymous figures in
"An Idyllic Space"
. In the five years between solo shows, other visual objects pack Kim's increasingly large canvases - prints of industrial structures, chequered layouts, opaque blots, directional symbols, graffiti writings, right angles, etc. All these on top of collage and object prints which belong to the artist's
inimitable
style. The density is overpowering to the point of overbearing, especially seen in the bigger works hung at the gallery's first floor.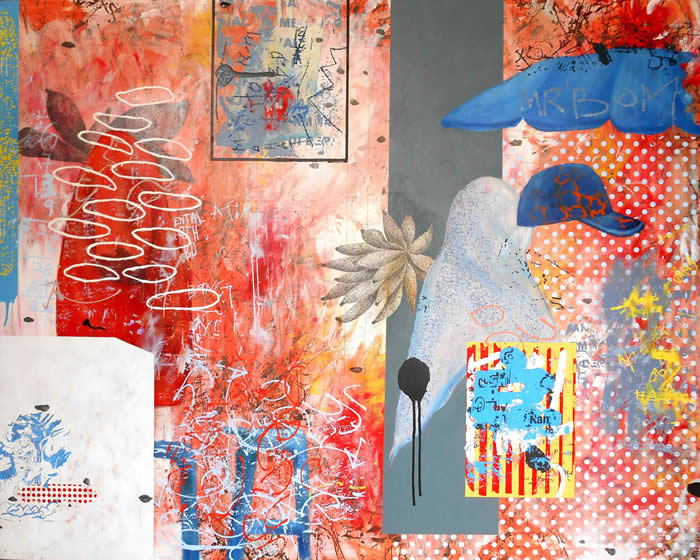 Untitled (Orange) (2014)
Fortunately, like his previous exhibitions, Kim displays a wide variety of
approaches and outputs
. Sharon
Chin wrote
that "(i)t is interesting that Kim is often associated as a printmaker, although his works clearly demonstrate a vibrant and fluid travelling between many mediums. One is seldom privileged over the other. This then could be because he engages with the language of printmaking, which is that of taking impressions." Exemplifying this observation are the plastic floor mats in the "Camouflage" series, where street scenes are cut-and-pasted onto an inconspicuous surface. Remaining unnamed are head silhouettes decal transferred onto decorative slip-casted pieces, its background of worn-out floral wallpaper compounding a 'Contented Joke'. Phantom faces are also moulded into three masks and a pair of egg-shaped clay constructs, which spot carved textures
last seen
in 'One Voice'.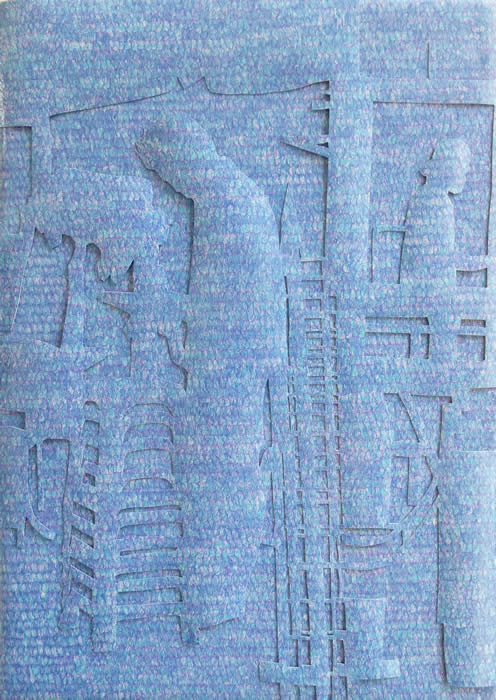 Camouflage III (Reading) (2014)
Non-functional ceramic creations exist in Kim's oeuvre, where
early experiments
saw recycled objects petrified as souvenirs of decay. This
international contemporary
approach has since evolved into printed plastic bags and seeds, a novel and relevant method that isolates individual items as nostalgic triggers. Works like a tyre blanket indicate a regressive choice, although the cotton mountain and metal weight in 'The Fairness of Scale', is too clever to be dismissed. Pieces from the "In Box" series try to depict the artist's signature motifs in a different manner, but the results recall the incoherence of Nizam Rahmat. Similarly, the slip-casted versions of Malaysian state maps, pale in comparison with Bibi Chew's
superb wooden
topographies of the same theme. Nonetheless, it is a commendable attribute for an established artist to pursue new modes of expressions, especially for one who is regarded highly as an art educator.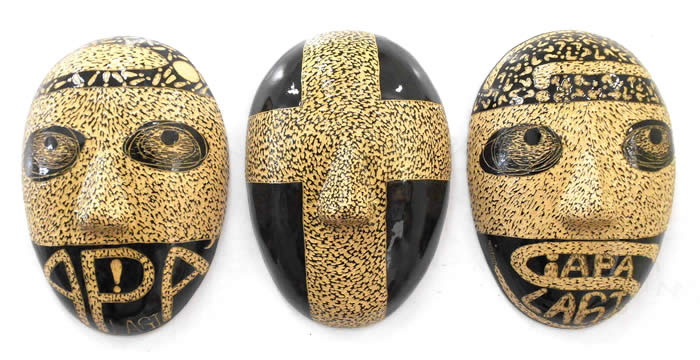 Apa Lagi, Siapa Lagi (2014)
As Kim's works become more dense and colourful over the years, displaced visual cues are juxtaposed to make up memories of time and space. A trucker hat strikes an ominous presence, while opaque bars anchor dirty pictures layered with graffiti scribbles. Each material's level of transparency is utilised to craft visual depth, such as the grey ledge paired with whitewash-like drips in 'Untitled (Red)'. Lesser motifs in the foreground mark the better works among the lot, notably the complementary pair of 'Untitled (Blue)' and 'Untitled (Grey). Screen printed street crowds cover its background, while tree branches and labourers linger in the middle, its detachment to the viewer perfectly capturing an urban aesthetic. As a city dweller walking the streets of Kuala Lumpur, these impressions serve as a wonderful transcription of eye-level observations, underneath the sky scraping developments of this place.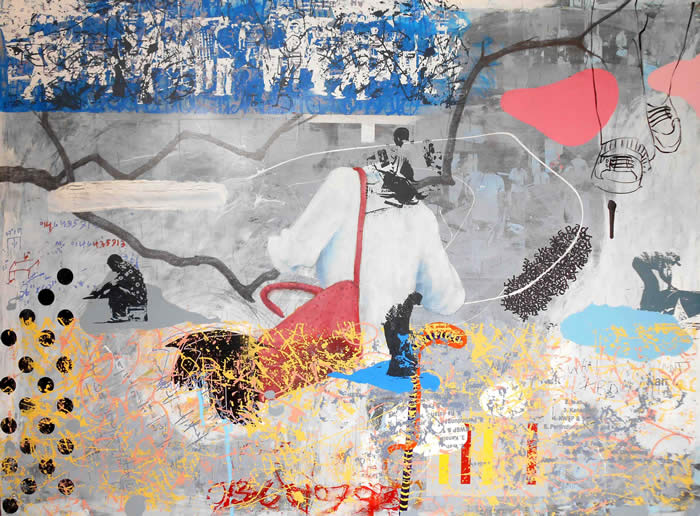 Untitled (Grey) (2014)