31 December 2012 @ Wei-Ling's
This year's
18@8
was held in Singapore, but it was nice to see the works on display back at the Gardens. Many large pieces occupied the space, including Hamidi Hadi's curiously white canvas, Ivan Lam's on-the-dot criticism in "Y.Z.X", and Kim Ng's collage of modern landscape's forgotten areas disguised as a dream.

Yau Bee Ling - Mother and Child 4 (2012)
Stopping me in my tracks is the hanging cocoon by Yim Yen Sum, an incredible textile fabrication of form, colour, and texture. Yau Bee Ling's 'Mother and Child' series provide a more poignant, and equally skilful in execution, drawings that juxtaposes a mother's love with her internal struggles.
Yim Yen Sum - Where I Come From (2012)
At Brickfields, Noor Azizan Rahman Paiman's
"Ali Baba and the Forty Thieves"
series was still being exhibited. A more textured colour palette drew my attention away from, the usual satirical situations that the artist is famous for. I found this to be an artistic growth that is very welcome, where his characters are now more attractive on the surface, but portrays an ugliness that is even more intrinsic.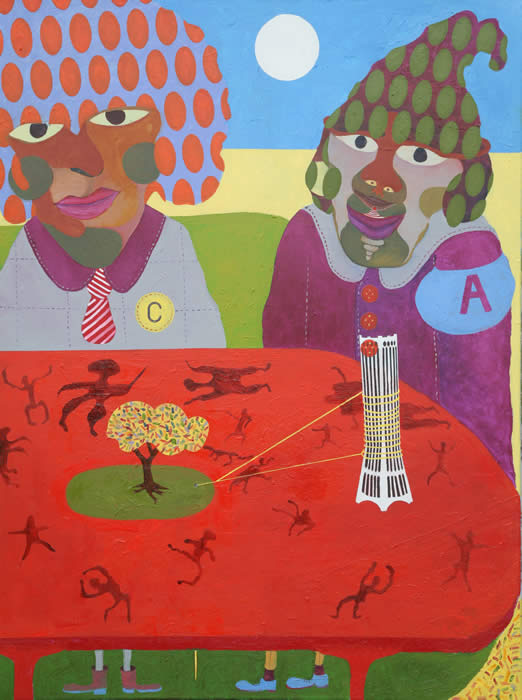 Noor Azizan Rahman Paiman - [K] XXXXXX, Cekap & Amanah (2012)